Game Guides
How to Play Billionaire Casino Slots 777 on PC with BlueStacks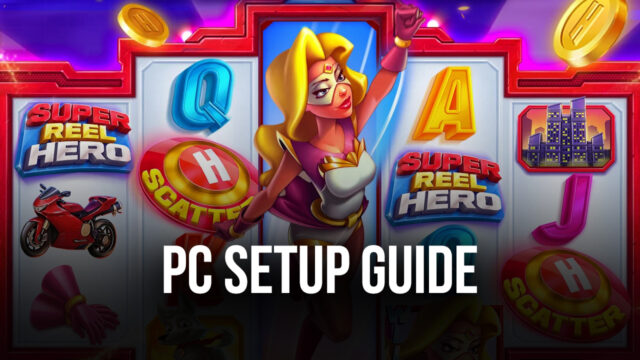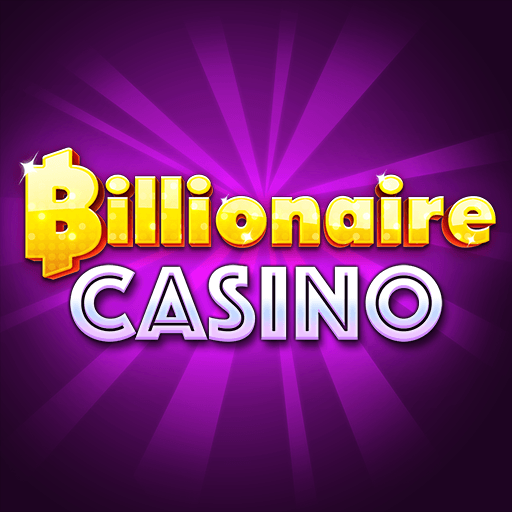 Billionaire Casino Slots 777 is one of the most riveting casino slot-machine games on the market. Feed your thrill-seeking appetite with this brand new casino game as you roll the slots to see if you get lucky enough to win the jackpot. Check out all the different machines and test your fortune by betting those in-game coins today. The fun to be had in this game is simply endless and there's no better way to spend your free time than by winning some big in-game money!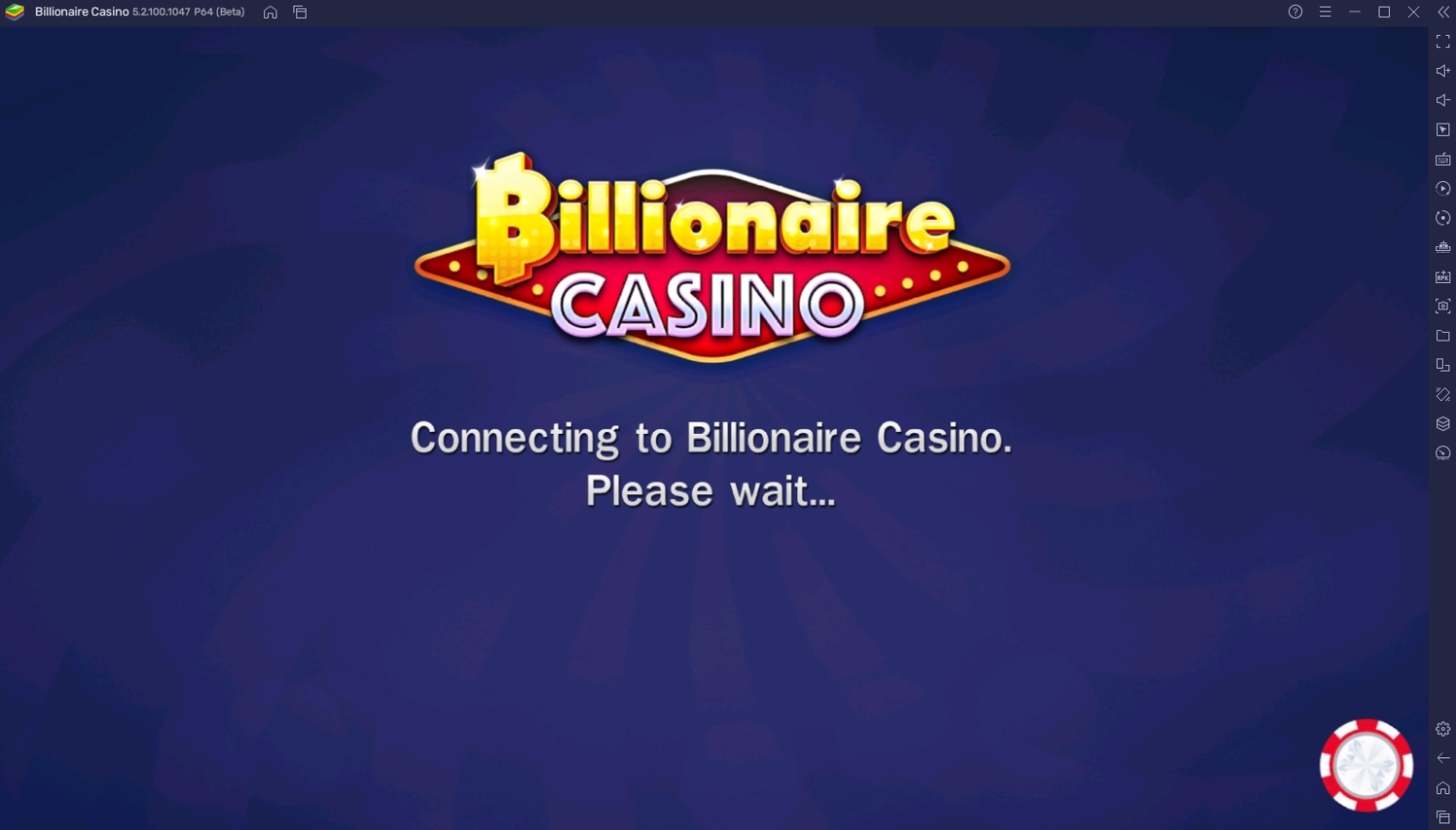 A lot of people love the thrill that casino games provide. Whether you're having a frustratingly bad day or one where you're showered with good luck, being in a casino is simply something that relieves your pent-up stress. Nowadays, it's difficult to even go to a casino, especially if you live in an area that doesn't have one nearby. In that case, why not make do with what you have by playing your favorite casino game – Billionaire Casino Slots 777 on PC with BlueStacks!
How To Set Up Billionaire Casino Slots 777 on BlueStacks
Billionaire Casino Game is really enjoyable as a to-go application that can be played wherever you go. However, some hardcore casino players prefer to feel immersed in the feel of using a real slot machine, so the handheld smartphone doesn't exactly cut it. That's why a lot of casino players download BlueStacks so that they get a more realistic experience playing all of their favorite games using their computers, whether they're at the home, office, or anywhere else that they have access to a PC.
Download and Install BlueStacks

on your PC.

Complete Google Sign-in to access the Play Store, or do it later.

Look for Billionaire Casino Slots 777 in the search bar at the top-right corner of the Game Center or at the Google Playstore.

Click to install Billionaire Casino Slots 777 from the search results.

Complete Google Sign-in (if you skipped step 2) to install Billionaire Casino Slots 777.

Click the Billionaire Casino Slots 777 icon on the home screen to start playing.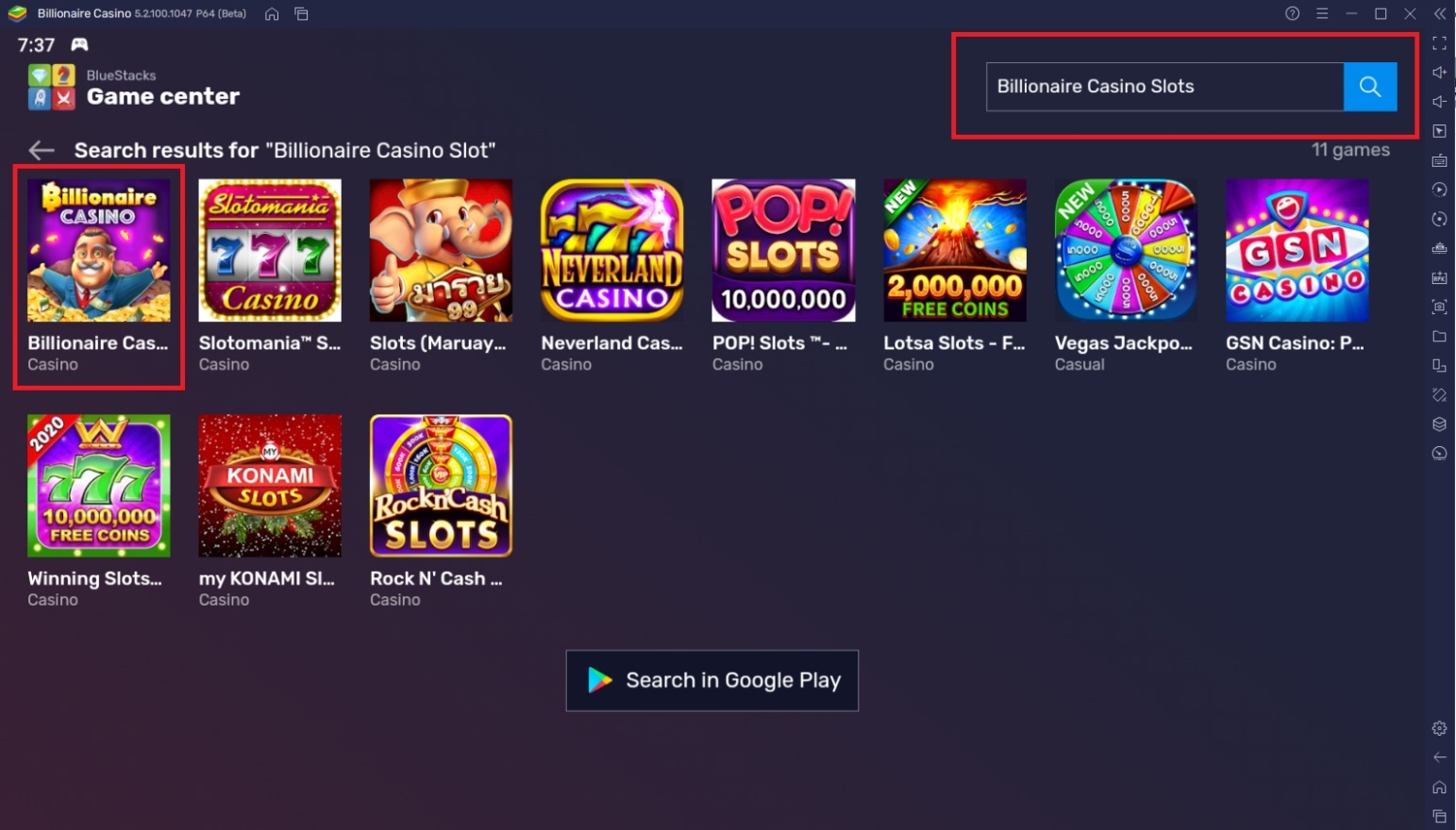 Useful Features When Playing Billionaire Casino Slots 777
BlueStacks is the best place to play all of your favorite Android games. One of the best things about using this platform is that you get access to useful features that are simply beyond the technology of current smartphone devices. If you want to play any mobile game seriously, there's very little reason to stay on your limited smart device when the PC has a lot more versatility when tending to your needs as a player. Here are some of the features that you may enjoy when using BlueStacks:
The Multi-Instance Function is a useful tool that allows players to open more than two Android "devices" at the same time through BlueStacks instances. By using multiple instances, players can essentially play two or more Android games at the same time without having to close or open an existing game. You could even play two or more instances of the same game or play a different game while another one is playing idly in the background if it has an auto-play function or something similar.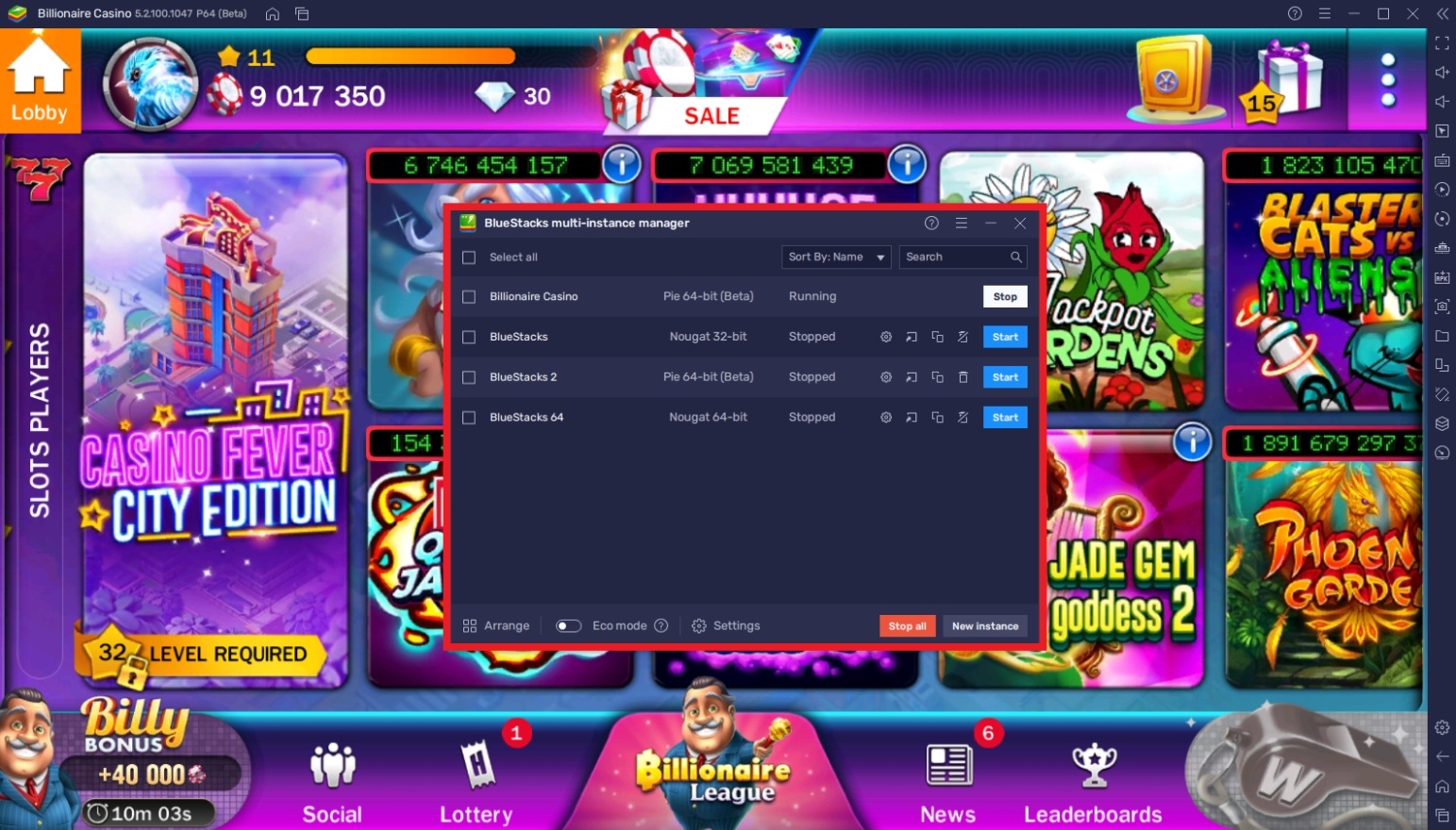 Billionaire Casino Slots 777 features an auto-spin feature so players can essentially watch the slots go without having to do much else. Just watching the slots go can be a bit boring, especially if nothing eventful is happening in the meantime. That's why you should install BlueStacks so that you can play a different game while running this game in the background. Or better yet, open multiple instances of Billionaire Casino Slots for the best chances of winning the jackpot!
The Macro Feature is, in short, an upgraded auto-play feature. This feature allows players to pre-record a series of actions in the game to be played later on by saving it as an in-game macro on the current BlueStacks instance. The best part about this is that any player can easily create his/her own macro since it's easy enough to learn how to do it; it's simplified for all types of players, no matter the background.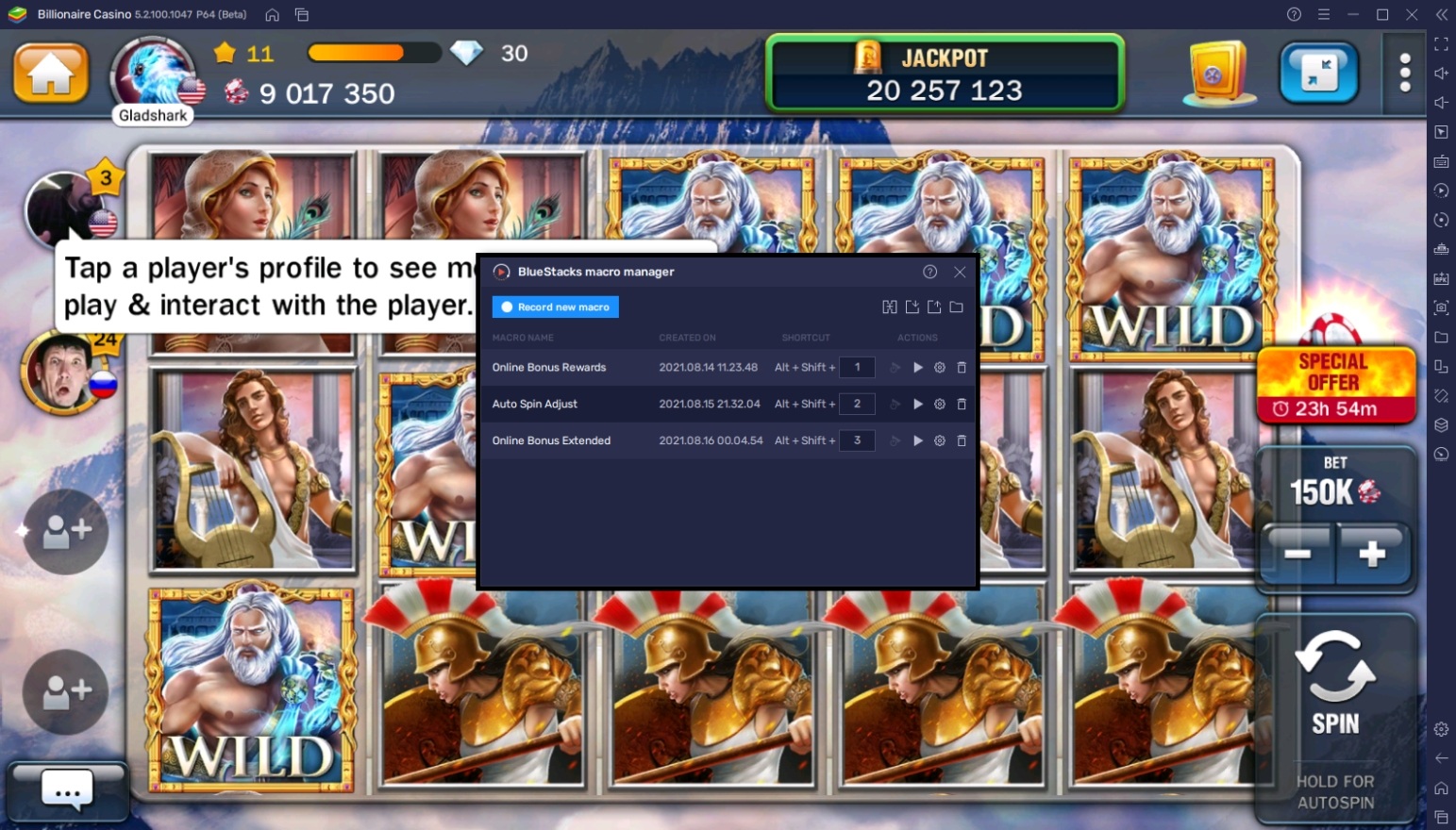 Despite Billionaire Casino Slots 777 having its own auto-spin feature, it's not enough to bypass some of the game's more tedious parts. Having various macros that fit the situation will greatly reduce the number of tasks you need to actively complete so that your enjoyment isn't reduced by carrying out unenjoyable in-game chores. Once you've created your first successful macro, we'll guarantee you that you'll keep making more.
The Eco Mode is the perfect feature to round out all of the useful features. When using both the Multi-Instance Function and Macro Feature, your PC will surely use up a lot of energy, ramping up power usage, which is not only economically inefficient, but also harms the environment. The eco mode solves this problem by greatly reducing the usage of an instance without affecting its in-game performance.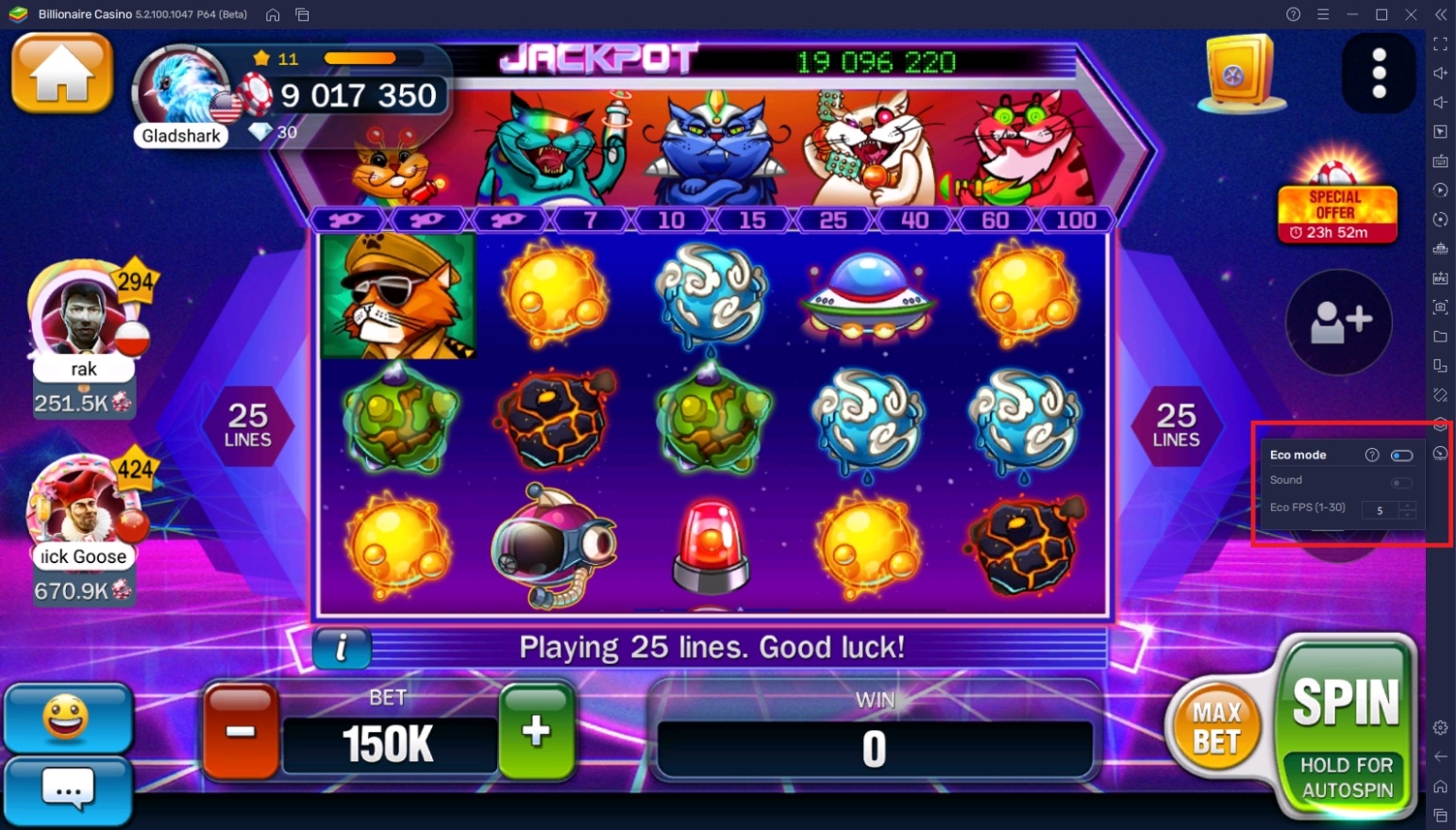 The Eco Mode is especially used for games that have an auto-play feature since this function makes the current instance uncontrollable. You'll notice that the graphics and animation will be greatly reduced, but it doesn't affect the actual gameplay while the game is running, so your tasks aren't interrupted, even though it looks like the instance is glitching out.
Win Big in the Billionaire Casino!
Ever wanted to experience playing in a casino but don't have the money or time to go to the real deal? In today's day and age, there's no need to go to the real place if you just want to experience what it feels like to go somewhere. Everything has a simulator and casino games are surely no different!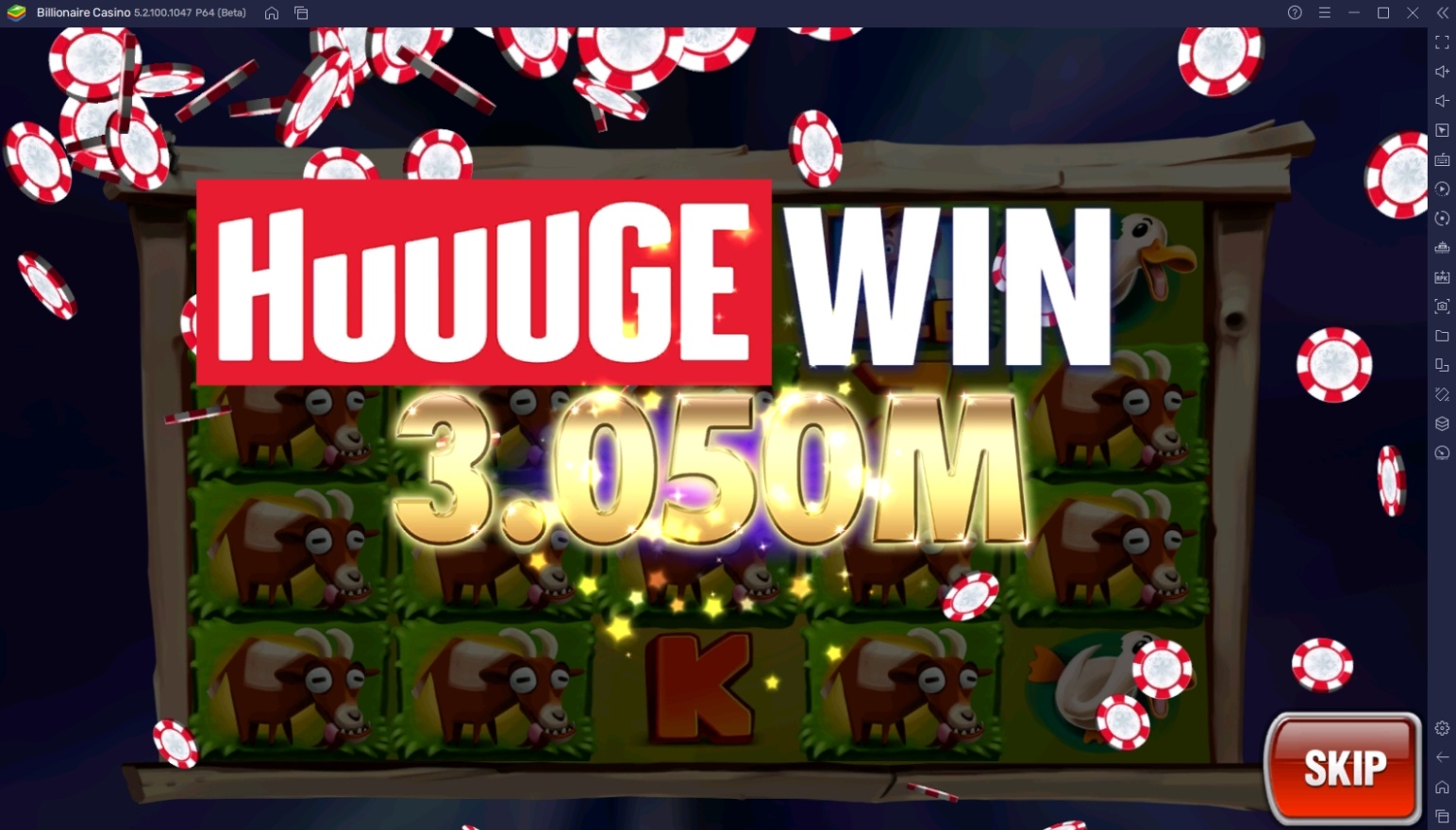 It's time to try and win big in the casino by playing this game today on your BlueStacks instance for the best experience you could possibly get. Just follow the steps on how to download it above and you can start rolling those slots to see if you're the world's luckiest man or the most unfortunate gambler!