Game Guides
How to play Huuuge Casino Slots on PC with BlueStacks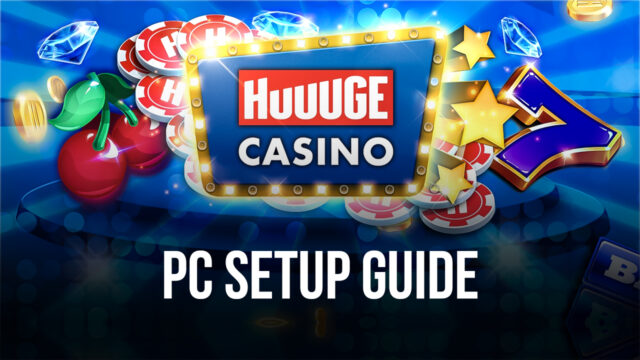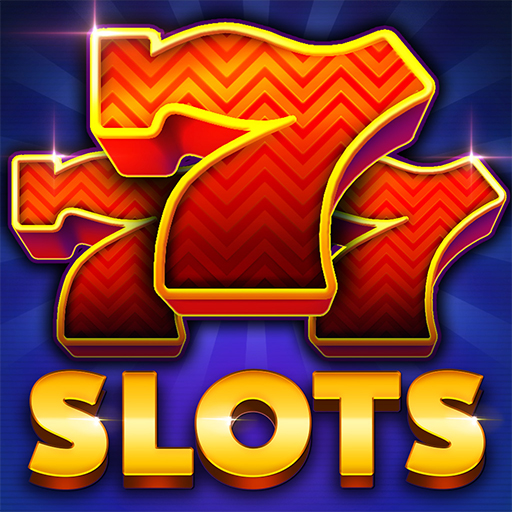 There is a reason why everyone loves Vegas: the Casinos. Casinos and slot machines have become part of everything that is supposed to be fun; from movies, to now even games because not everyone can be in Vegas all the time. Games like Huuuge Casino Slots have been able to provide their players something very similar to slot games. That is not only that you can play, but Huuuge Casino Slots is primarily a slots based game.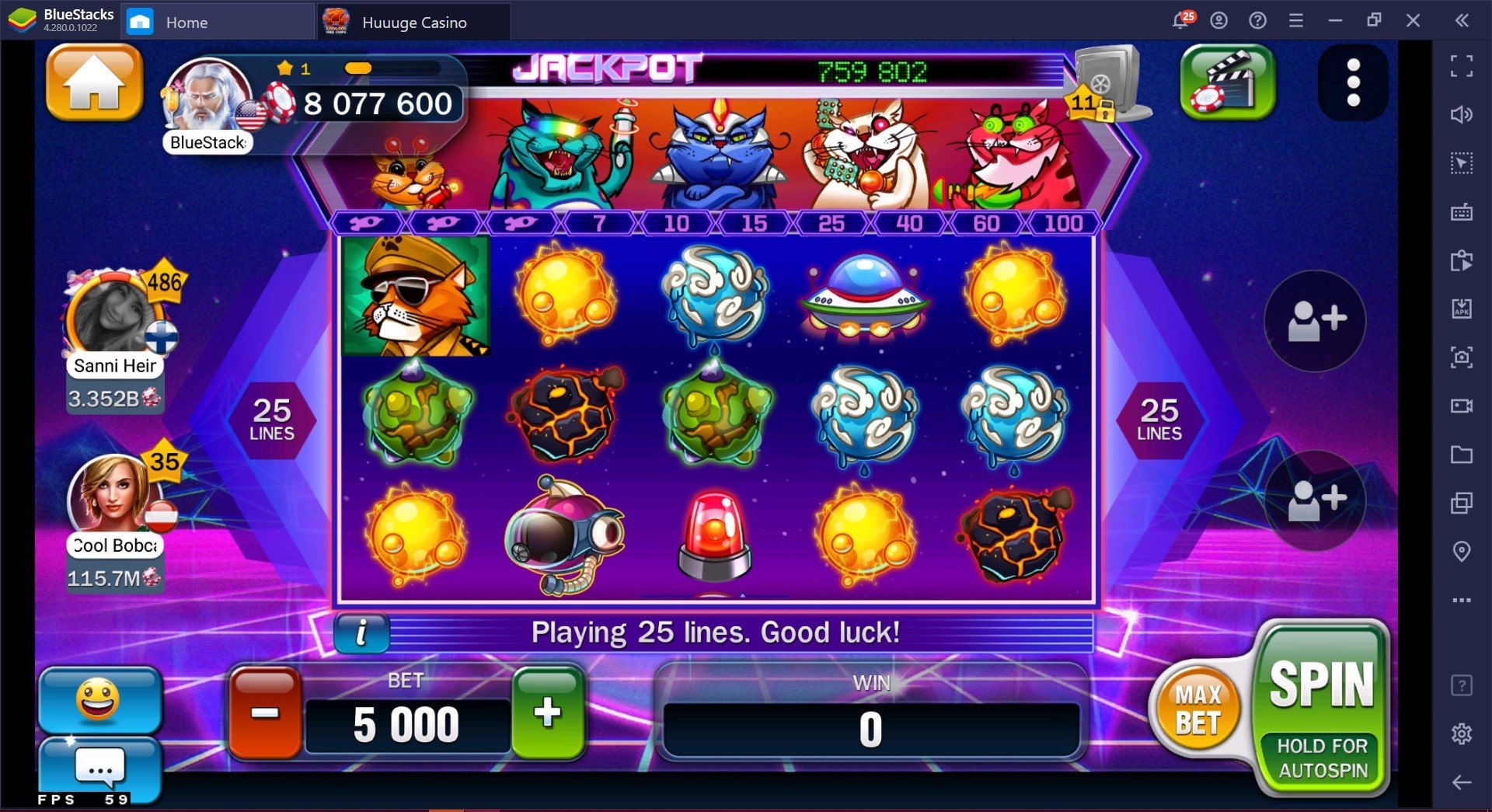 You start the game by either playing as a guest player or logging in using your Facebook. Once logged in you will find yourself in front of the slot games. By default that is where the game takes you when you open it for the first time. What makes Huuge Casino Slots such a great game to play for new players who are trying their hands at slots for the first time is the amount of free chips it gives you. Right from the get-go you will get 5 million free chips to play with. You can use these chips to play all kinds of slot games and place your bets. To get even more chips you can log in using your Facebook and the game will give you 500K more chips.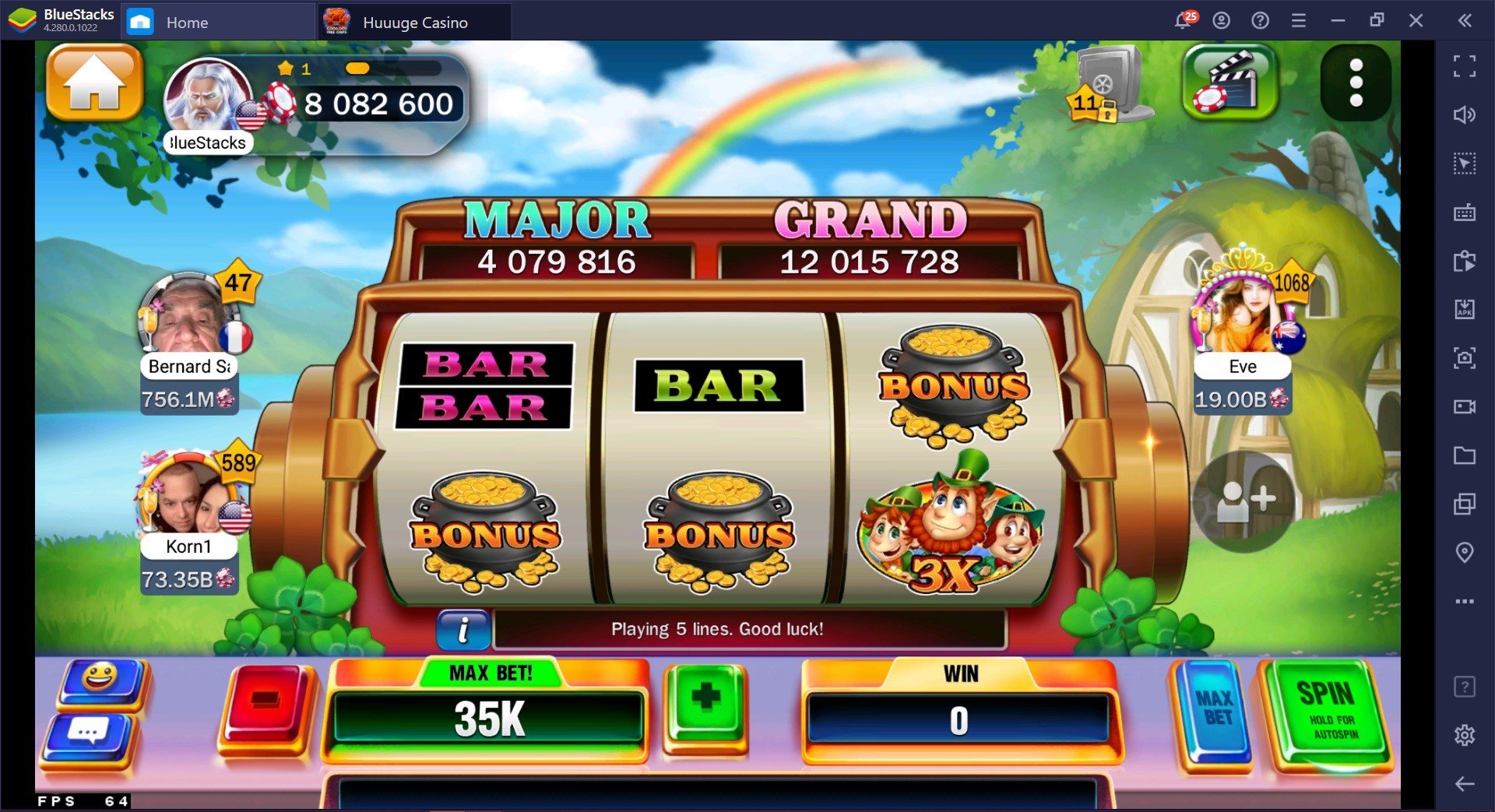 When it comes to casino based games, Huuge Casino Slots has most of them beat. The UI is easy to use and there are enough games to keep a player busy. That's not all, there are game modes like Roulette, Baccarat, Blackjack, Video Poker, and Texas Hold'em. All of these different modes combine to give players the same feeling that you would get in Vegas. It doesn't stop here. A big part of having fun in Casinos like Bond does in Casino Royale is because of other players. Mainly, the fact that there are other players to challenge and win against.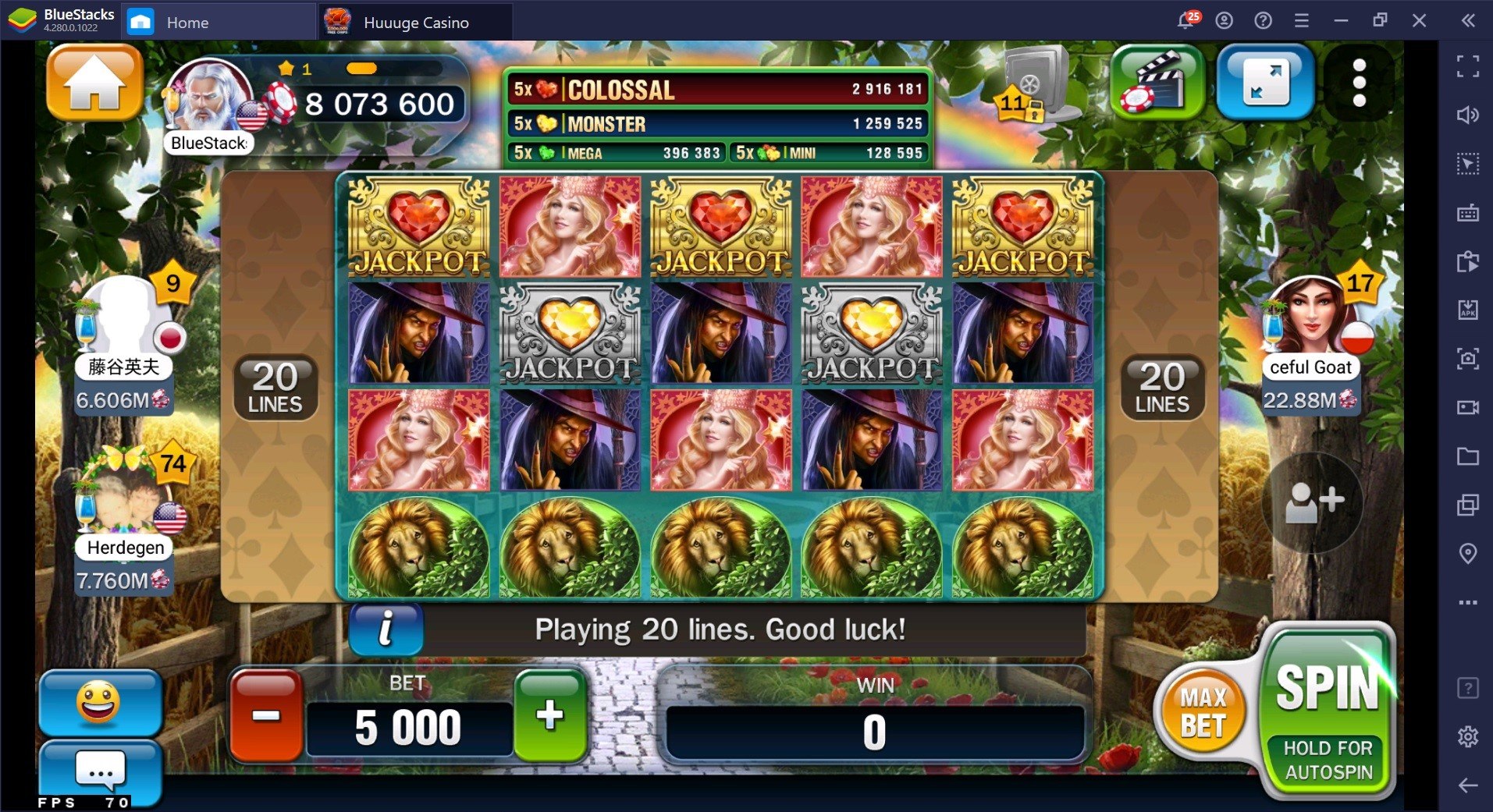 Huuge Casino Slots has you covered there as well. You can play the game with your Facebook friends who also have the game installed on their devices. Even if you are playing as a guest you can still add other players to your friend list. That way you can keep playing with the people you want to play with if random matchmaking is not your thing. There is also a way you can start or become part of a club in the game. You'll need 1,000,000 chips to get started and it will give you access to the Billionaire League.
How to Download Huuuge Casino Slots on BlueStacks:
Download and Install BlueStacks on your PC.

Complete Google Sign-in to access the Play Store, or do it later.

Look for Huuuge Casino Slots in the search bar at the top right corner.

Click to install Huuuge Casino Slots from the search results.

Complete Google Sign-in(if you skipped step 2) to install Huuuge Casino Slots.

Click the Huuge Casino Slots icon on the home screen to start playing.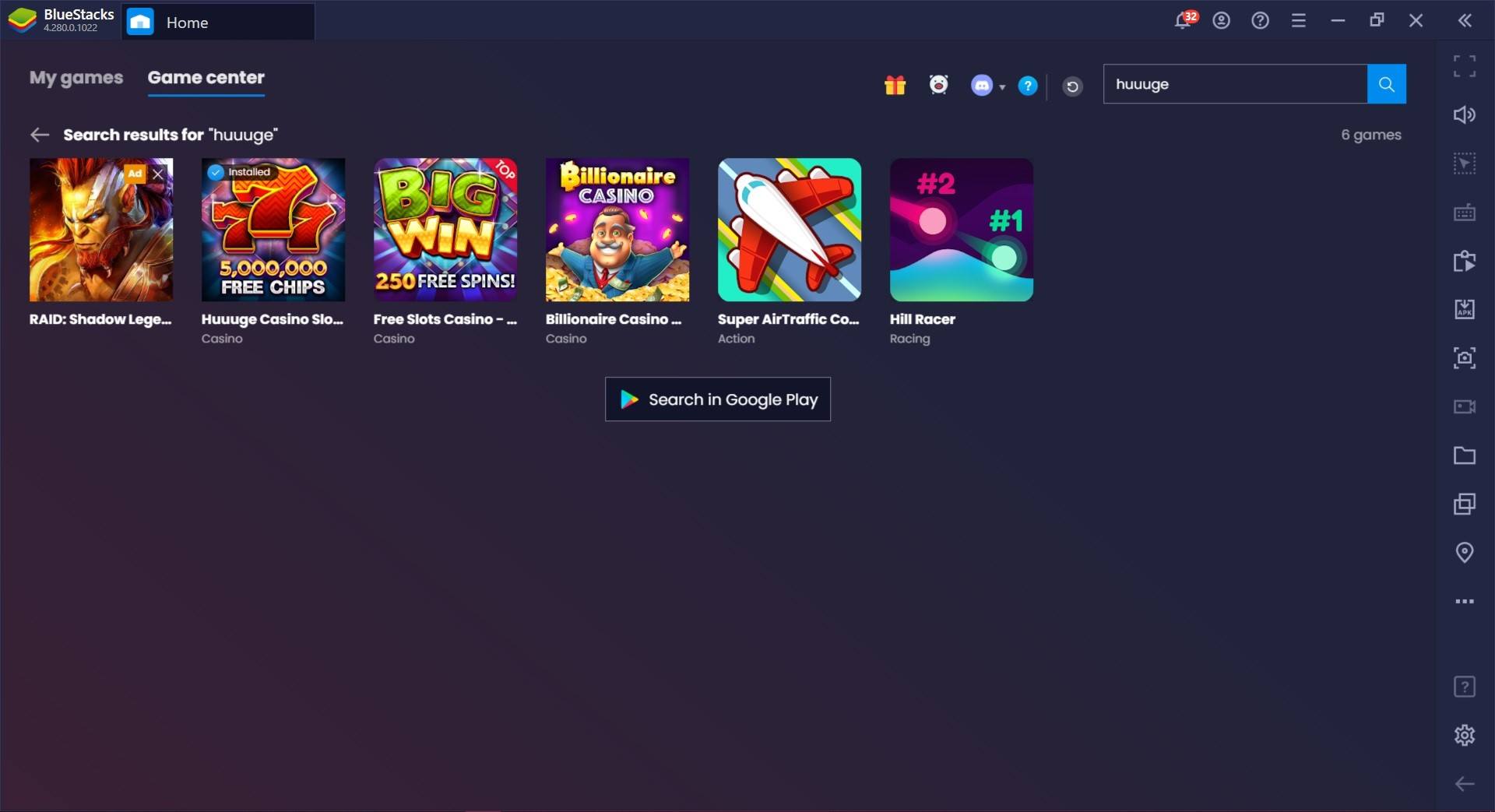 If you are playing Huuuge Casino Slots on your PC with BlueStacks then you need to know certain things. BlueStacks has in-built features that make playing Huuuge Casino Slots way easier and fun. The fun part is quite self-explanatory, cause of the better controls. What BlueStacks does very well is make playing this game way more easier than it should be. It features functions like Multi-Instance Function, Macros, and Eco Mode. These three features are the ones you want to use when playing this game.
Multi-Instance Function
Starting off with Multi-Instance Function, this is one of the most useful features when playing games like Huuuge Casino Slots. The way this works is by opening multiple instances of an app. Basically, you can open Huuuge Casino Slots in multiple tabs of BlueStacks and play on them simultaneously.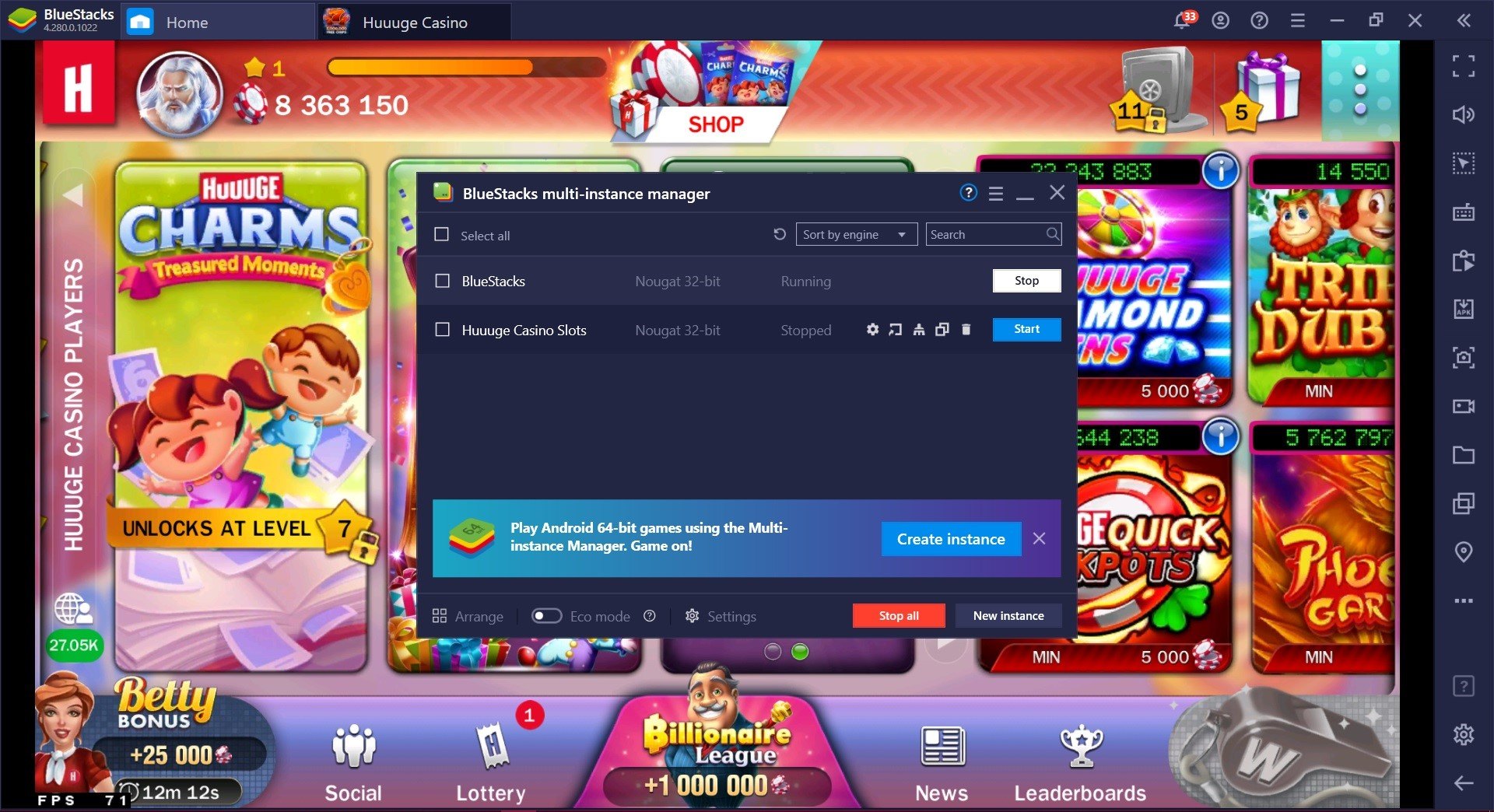 That's why playing a game like this is so easy on BlueStacks. Running multiple instances of the same app or game simultaneously is near to impossible on a smartphone. However, most PC's and laptops have enough juice in them to pull this off easily. Now you will learn how you can use Multi-Instance Function with Macros.
Macros
Macros is one such feature that gives a BlueStacks user an advantage over someone who doesn't use it. If you have used a gaming laptop's keyboard or a gaming keyboard in general then you already know what it means. Macros are basically when one key is assigned to execute a function which is a multiple combination. Another term that can be used here is key binds where one key performs a task of multiple keys.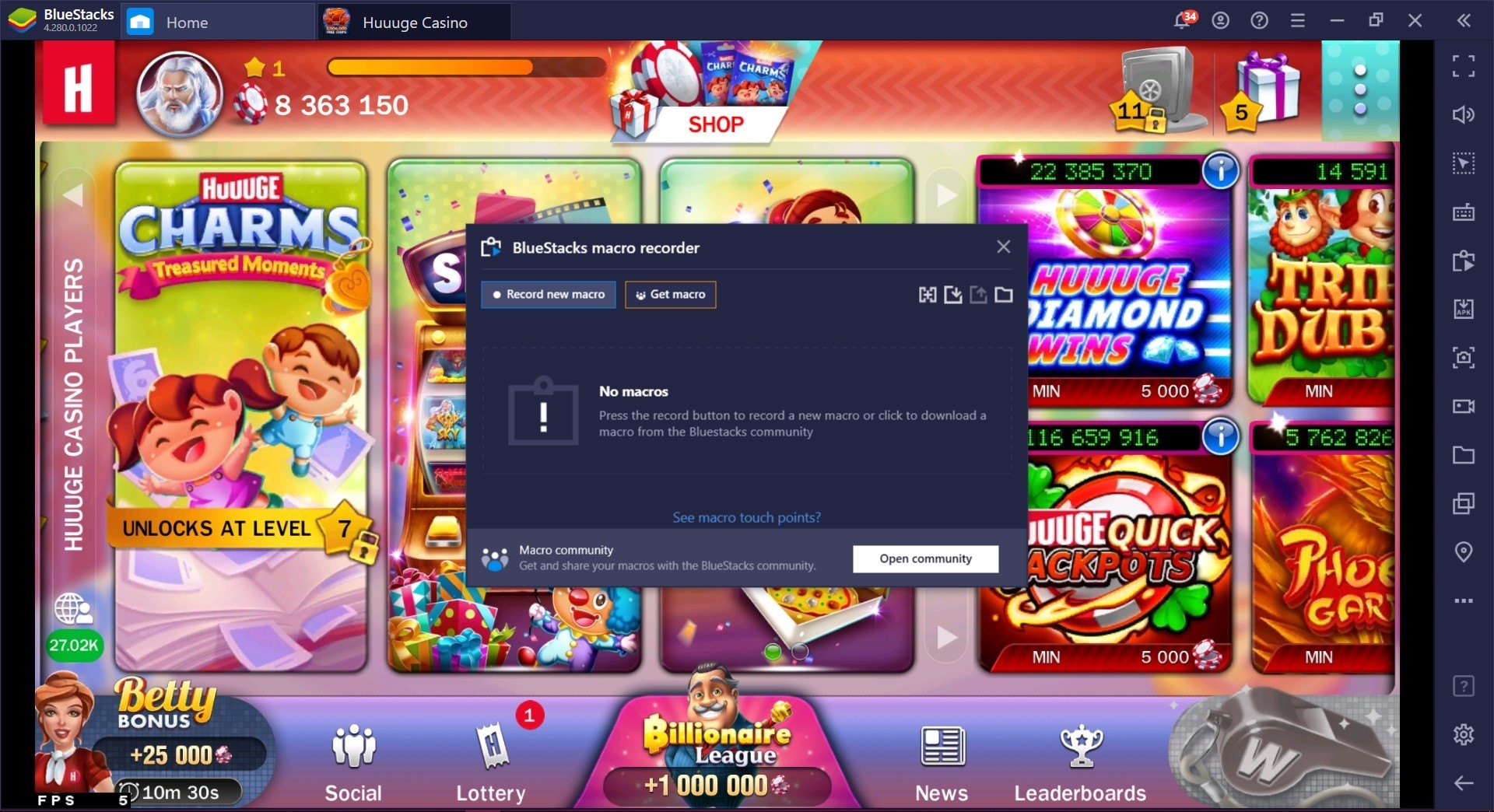 It's like when a user has pressed four keys together to execute a combo. In BlueStacks you can program Macros to execute combos. Basically, you can program a full-fledged Macro to keep betting 35,000k chips in Huuuge Casino Slots and keep playing the sequence at the press of the key "M".
Eco Mode
This is a feature that is perfect for users who tend to keep the game running in the background, only playing when they want to take a break. The Eco Mode is very functional as it really takes the load off your PC.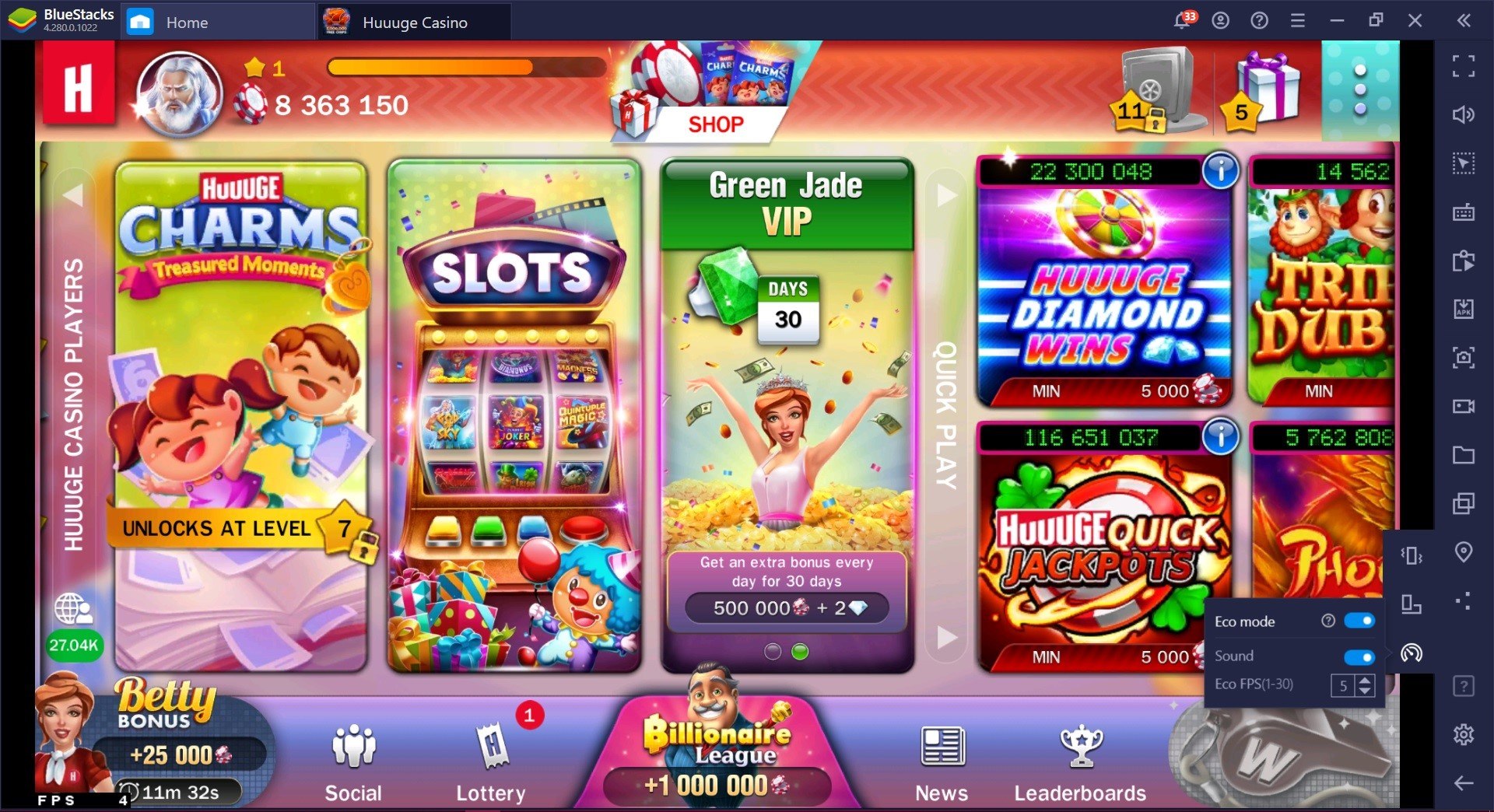 Basically in Eco Mode BlueStacks will go into a low power consumption mode and will be running on a lot less resources. You don't need a lot of processing power to play Huuuge Casino Slots.
Huuuge Casino Slots Explained
There is another thing that makes this game such a great experience for players. That is its currency distribution system. Yes, you can buy certain items from the shop like most casino based games. However, what is different is the fact that Huuge Casino will keep giving you large numbers of chips for free. Even if you don't play the game that often it will still reward you with free chips. This means that even players who want to play the game casually can do so for free.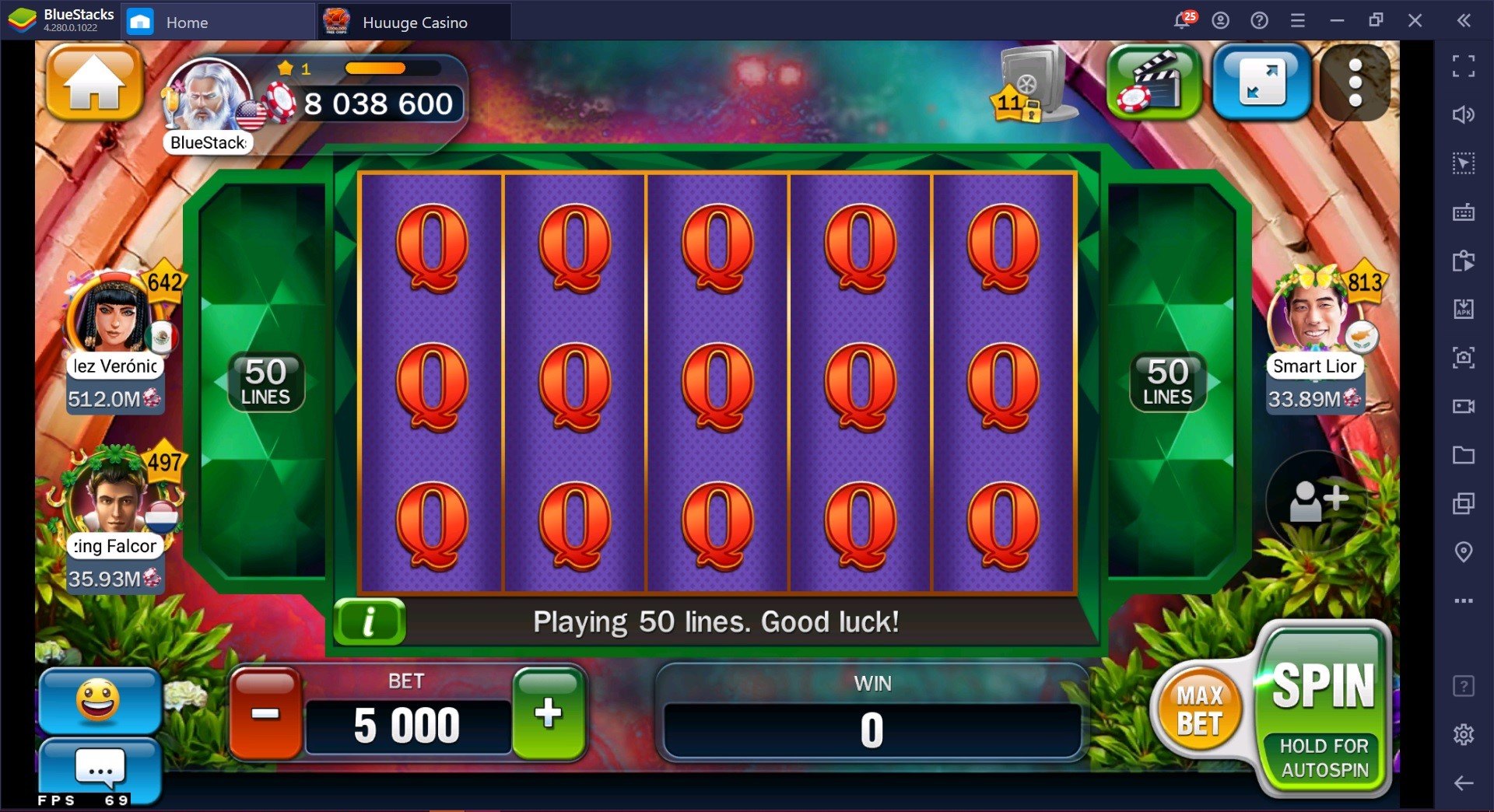 For players who really want to get things rolling, there is a proper shop. In this shop, you can buy chips, diamonds, and VIP Rewards. The VIP rewards are an interesting item in the shop. It basically allows players who buy it regular rewards for a certain number of days. This item is made for high roller players who go all in. What makes the shop so interesting is the fact that it is also locked for players. So if you're a level 5 player you won't be able to see a level 10 shop. So no player can buy their way in the game.
Coming back to those tons of game modes, they are very different from each other. Huuuge Casino is a slots game at its core. It basically is all about placing your bets and pulling the lever and see if you can win some chips. Every mini-game in Huuge Casino is a slot game but not a single one is boring or similar. Each slot game is different from the other and has its rules and minimum acceptable bets. Some of them do require players to be on certain levels to be played.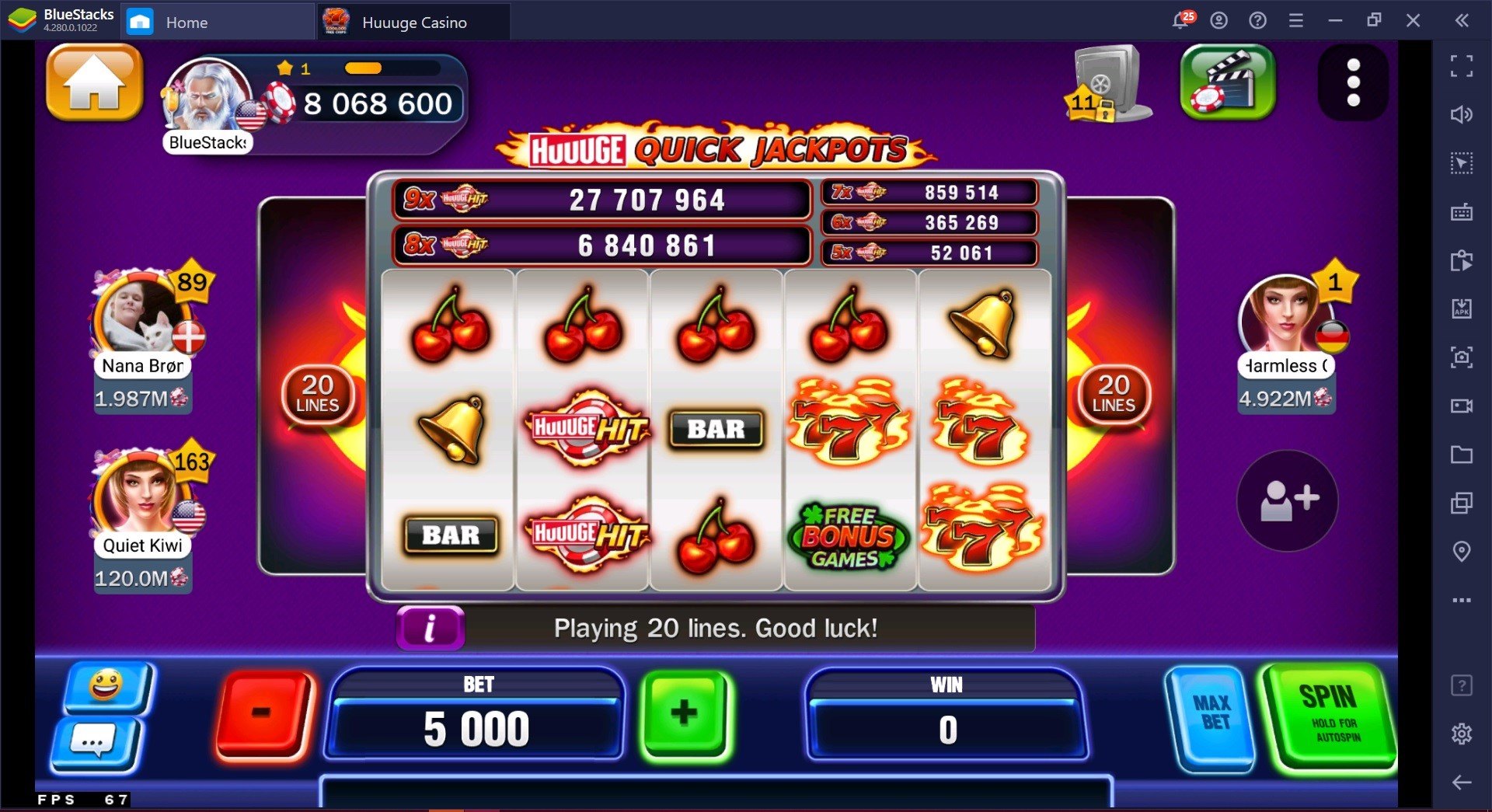 This casino based slots game is perfect for people who want to get Vegas vibes. You don't have to purchase a thing in order to play in the slots of Huuuge Casino. There are so many slot games that most players wouldn't be able to play all of them. With the social feature, you can even play with your Facebook friends. That is not to say it is not for people who prefer to invest time and energy in a game. It offers every kind of slots player a machine to play on and have a good time.