Game Guides
EverMerge: Items Galore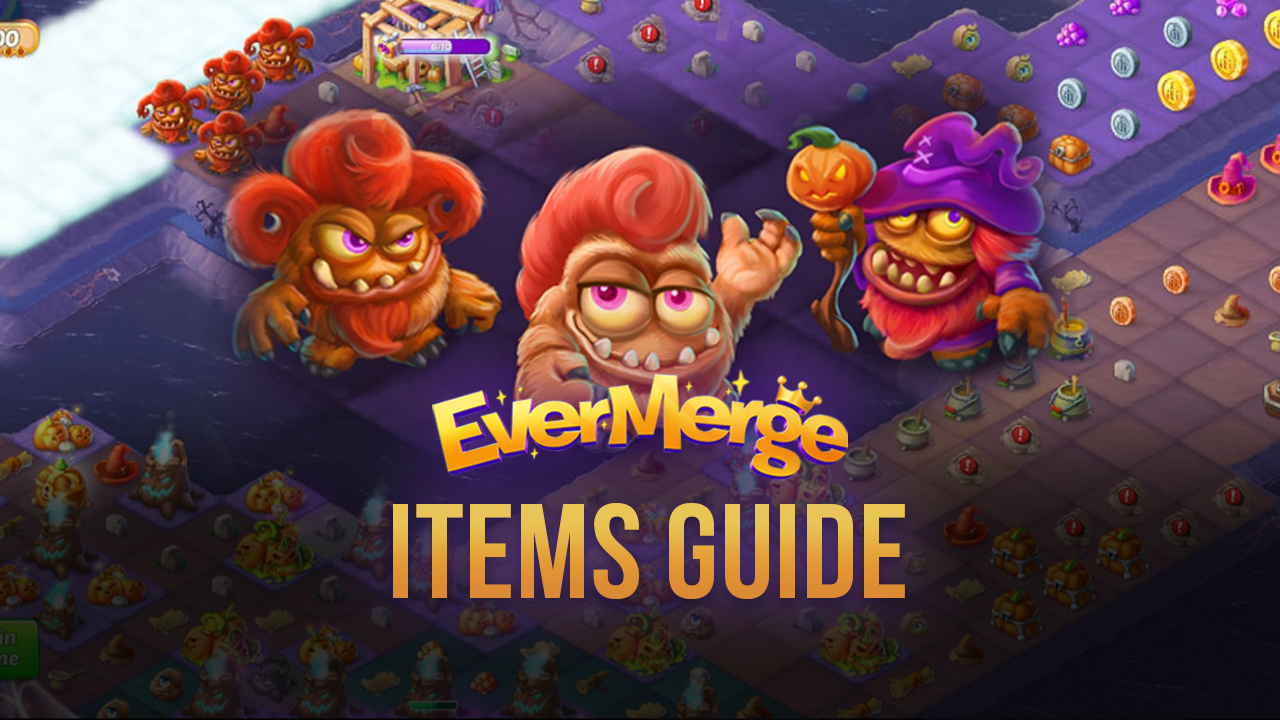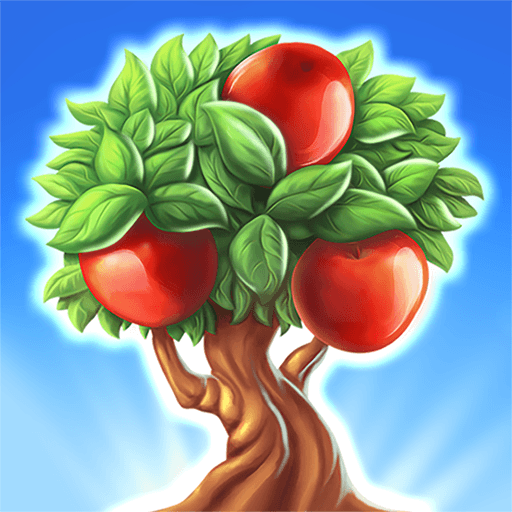 As we discussed in our Resources and Materials article, there are loads of different items in the world of EverMerge, each with their own uses and abilities. While there is a pretty good tutorial at the beginning of gameplay in EverMerge, players are left to figure out an awful lot of stuff on their own. Even the 'discoveries' tab, which effectively works as a blueprint for the combination progressions of all items, only goes so far, failing to tell you much about what the item does, only what it looks like and how to get there.

Thankfully, we're here to tell you exactly what everything can do and why you should care in this helpful item guide from BlueStacks. Let's get right to it!
Boots
One of the slowest moving mechanics in EverMerge is the process of unlocking new heroes from our favourite fairy tales. Though the whole premise of the game is based on freeing these characters from the Fog of the Forgotten, this is not something that happens very often.
All players start with Sleeping Beauty as their only hero, however the second hero isn't all that far behind. Early on the game boots will start to appear which can be combined just like any other item to form bigger, better sets of boots.

Throughout the early parts of the tutorial Sleeping Beauty will reference the boots and hint that the player should take care of them and make sure to combine them as much as possible.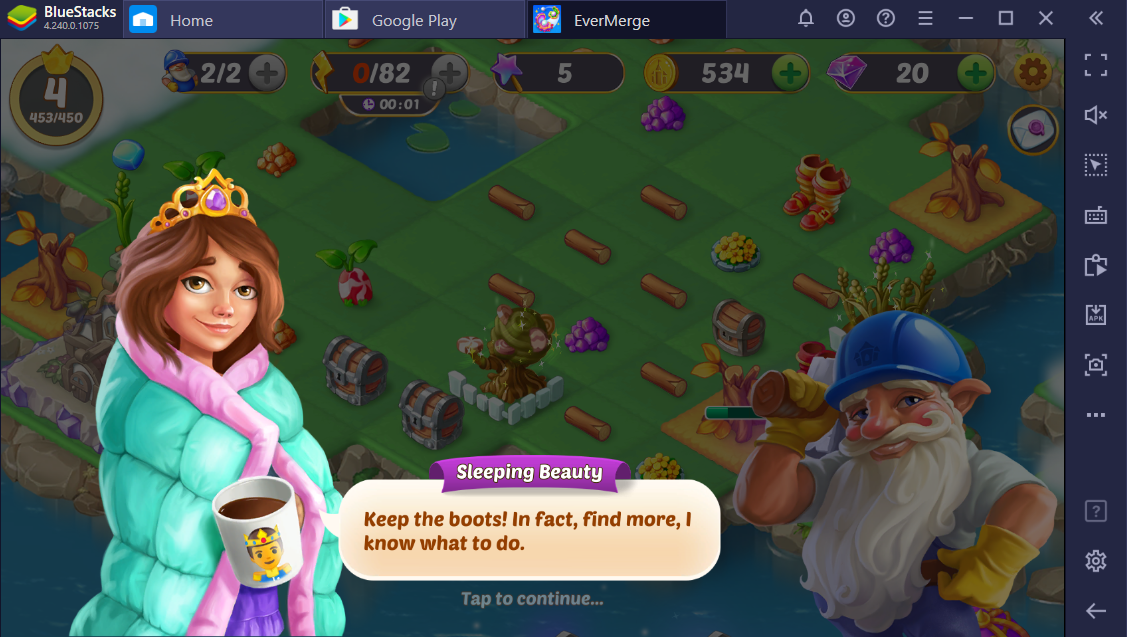 Eventually, when three sets of the fanciest boots are combined, a second hero becomes unlocked – Puss in Boots.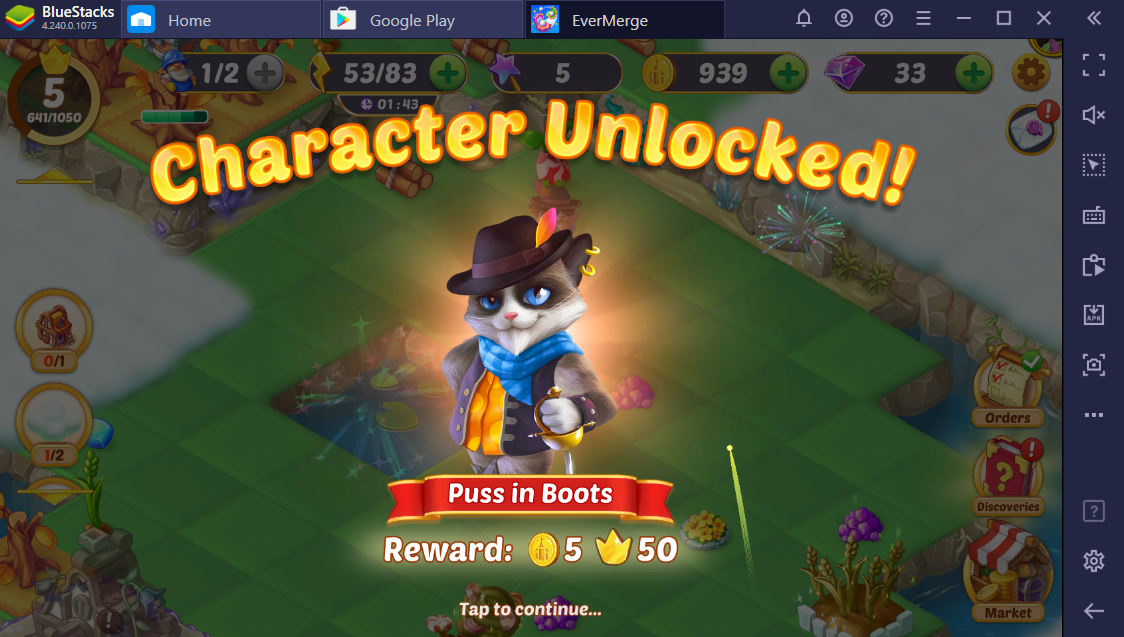 Puss, like Sleeping beauty, will provide the player with orders which, when fulfilled, will return various items such as Bronze Dust and Wands.
Axes
Once you have managed to get Puss in Boots on board, you'll notice that boots no longer drop from chests and other item sources. Instead, axes of varying qualities will drop instead. The principle here is the same, although be aware that there are decidedly more levels of combinations for the axes than for the boots. Whereas unlocking Puss was fairly quick work, unlocking characters from there on out will be very much a long haul.

Something worth thinking about once you get to the later stages of the game is where things are kept. Items drop all over the place and so staying organized is pretty important. Common items like wood or Candy Sprouts aren't much of a problem as they'll be combined pretty quickly into bigger and better things. Axes, however, and other items with longer paths to their ultimate form, will start to take up quite a bit of space on your map. If possible, you'll want to keep these mountains of items organized and separated from where you do most of your farming and combining work, so as to avoid items getting mixed up.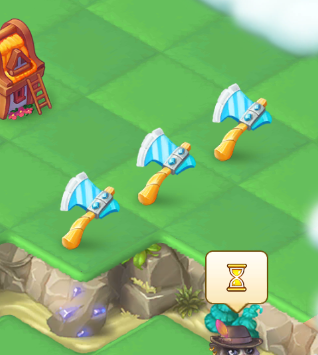 Coins
Coins are earned through gameplay, but they can also drop as items in-game. Interestingly, with coins you have a choice as to what to do with them. You can combine them into larger and larger denomination coins, unlocking various designs in your 'discoveries' tab, or you can simply click on the coins and add them to your spendable balance at the top of your player screen.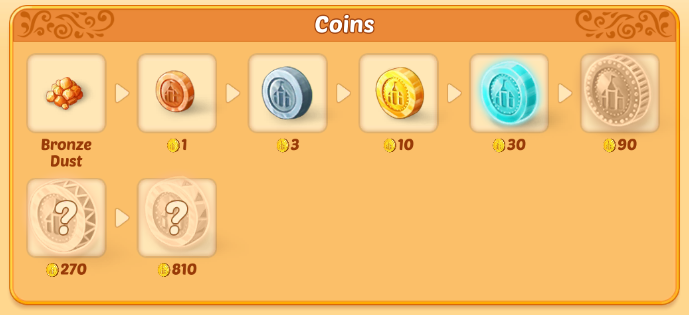 Interestingly, combining coins into bigger versions of themselves does not usually increase the value of the coins beyond what they were worth as individual and smaller pieces (unless you make use of the Merge 5 Bonus). Because of this, the only real reason to keep coins on the map instead of in your balance is to try and unlock more spaces in the 'discoveries tab', which does reap some benefits. If you decide to go this route though, be aware that space will start to get tight as you collect items to combine into higher and higher levels.

Rubies
Like coins, rubies are one of the main currencies in EverMerge. They are much rarer than coins and so have much more buying power when it comes to speeding up construction or buying powerful items from the market. Like many premium currencies, rubies can be bought for real money if you feel the need, although they do drop occasionally in-game, sometimes whole but more often in the form of Ruby Dust, three of which combine to make 2 Rubies.

In terms of combinations, Rubies behave in the same way as Coins, growing in size and opulence when merged but without increasing beyond the value of the constituent parts.
Hammers
You might think that hammers would be an item connected to yet another hero, but that is in fact not the case. Hammers are a very rare item that has no purpose until they have been combined up to their final form – A Red Gnome, otherwise known as an instant worker.

There are 4 whole stages of merging between a simple Mallet and the final Worker which, given the sheer rarity of even the most basic forms of the hammer, is a big ask. Having said that, the Red Gnome is an impressive reward for such an arduous challenge, granting you a worker with one hour of time to spend either on completing quicker tasks in an instant or by taking a whole hour off a big project. At crucial points in your adventure, this could be an absolute gamechanger, so make sure you keep an eye out for hammers when they come along. They won't drop often but grab them when they do.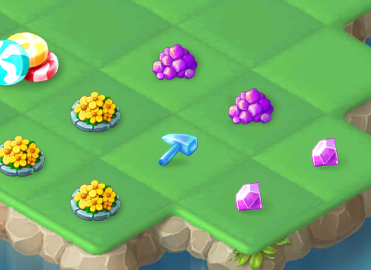 Crystals
If there is one item in EverMerge that could be considered the most powerful, it's the Magic Crystal. An unsurprisingly rare item, a full-formed Magic Crystal can be used as a kind of joker item filling in as the final piece for any combination you might be attempting. From replacing that final top-level character item to unlock your next hero, or being the third Grand House you need to make a mansion, the Magic Crystal's power is unmatched if used correctly.

The timing of a Magic Crystal use is vital and completely dependant on the strategy of the player. The more valuable the item you are replacing with a crystal, the more you will benefit from it, so try to use it in place of items that would be a ton of work to get hold of through normal channels.